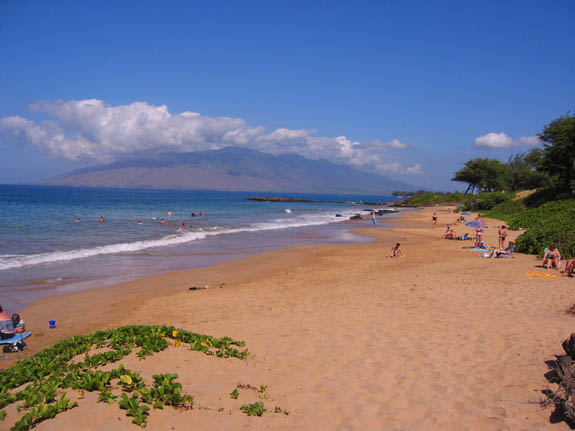 Put yourself in this picture! Kamaole III beach is across the street from
some of our favorite Maui vacation rental condos -
More info....

ALOHA!! We are located in Maui, Hawaii, and would love to help plan your Maui vacation. Real people answer our phones from Monday to Friday, and one call can save days of emails. We've been in business for 25 years, and work with many properties on Maui.
Maui vacation rental condos - economical, mid-range or luxurious. Maui offer's a wide variety of condo lodging, with some properties being economical while others are the ultimate in luxury, with gorgeous beachfront locations.

Maui vacation rental cottages - Spend your vacation in a charming cottage, perhaps on the edge of the beach, or tucked into a secluded upcountry setting. These are always a favorite with our honeymoon guests.
Spectacular, luxurious villas and vacation homes. These are scattered around the island.

South Maui vacation rentals - including Kihei, Wailea and Makena - outstanding condo rental options, as well as incredible Maui oceanfront or beachfront estates available for vacation rental.

Maui North Shore vacation rentals- Spreckelsville, Paia, and Kuau - unique vacation rental homes and cottages, many of them directly on the ocean.

Maui Upcountry vacation rentals- Haiku, Kula, Makawao and Pukalani - escape from reality - peaceful, rural, scenic, and away from the crowds!

West Maui vacation rental condos and West Maui vacation rental homes - Lahaina, Kaanapali, Napili and Kapalua - condos and vacation homes.